Background of Establishment
In 1966, the first Export Processing Zone (EPZ) was established to meet the requirements of Taiwan's economic development of that era. As at April 2015, 621 companies had been approved to set up factories in EPZs across Taiwan, and the investment was as high as USD17,850 million. The establishment of these zones successfully propelled Taiwan towards becoming a developed nation, setting a paradigm for other countries to follow. The Government took that opportunity and implemented the "Statute for Investment by Foreign Nationals", the "Statute for Investment by Overseas Chinese" and the "Investment Encouragement Act" to attract overseas capital for promoting domestic industrial development.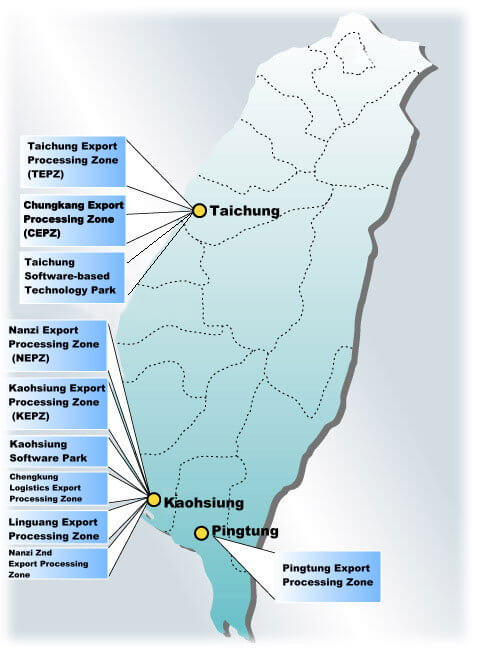 Introduction to Export Processing Zones
There are approximately 600 hectares for ten export processing zones (EPZs), most of which are located in Kaohsiung City, Taichung City, and Pingtung County. All export-processing zones are designated customs bonded zones. If further information about EPZ is required, investors can refer to the following website: Export Processing Zone Administration, MOEA.
Current Status and Target Industry of Export Processing Zones
Region
Export Processing Zone
Land Area (Hectare)
Type
Key Industries
Taichung Area
Taichung EPZ
26.2
Production Zone
Optoelectronic
Chungkang EPZ
177.0
Panel related , and manufacture of mental and machinery
Taichung Software-base Technology Park
4.96
Software-base Zone
Operation Headquarters, Knowledge concentrated industry including-ICT service industry, Cultural and creative industry( include digital content), Chinese language electronic commerce, Cloud industry, and design, R&D and Test
Kaohsiung Area
Nantze EPZ
97.8
Production Zone
Integrated circuits structures, testing process equipment
Nantze 2nd EPZ
8.5
Kaohsiung EPZ
72.4
LCD optoelectronic industry
Chengkung Logistics Park
8.4
Logistics Zone
International integrated logistic park combined functions with "Warehousing Logistics Center", "Process Transfer Center", "International Convention Center", "Exhibition Center", and "Business Center"
Kaohsiung Software-based Technology Park
7.9
Software-base Zone
Information Software, Digital Content, and Research & Design
Linkuang EPZ
9.0
Production Zone
Manufacture of Liquid Crystal Panel and Components
Pingtung Area
Pingtung EPZ
124.1
Photovoltaic industry, water treating equipment and fabricated mentals industry
Source: Export Processing Zone Administration, June 2015
According to the "Statistics on Enterprises by Category", there were a total of 20 industry categories in the export processing zones, namely: computers, electronic and optical products manufacturing, electrical equipment manufacturing, fabricated metal products manufacturing, machinery and equipment manufacturing, chemical material and products manufacturing, wearing apparel and clothing accessories manufacturing, food and beverage manufacturing, transport equipment manufacturing and repairing, miscellaneous industrial products manufacturing, repair and installation of industrial machinery and equipment, electrical equipment manufacturing, warehousing and storage services, information supply and communication industry, financial and insurance, international trading, headquarters and consultancy services, other industry-related services and other industries approved for establishment.
As at April 2015, 621 companies had been approved to set up factories in EPZs across Taiwan, and the investment was as high as USD17,850 million and more than 80,000 employers, and accumulated turnover for the year 2014 amounted to NT$38.21 billion.
Rental/Sales Price
The land within the export processing zones is available only for leasing. Investors can lease the land to build their own plant facilities or purchase standard factory buildings from the administration. Land rentals are based on 2.24% to 5% of the officially announced land value for each zone. Lease term for land is normally 20 years while the lease term for standard factory buildings is normally 10 years and renewable annually.
Public Facility Construction Fees
Public facilities within the EPZs were built by the EPZ Administration using borrowed funds. To pay off the loans, public facilities construction fees are collected from zone enterprises according to the area of land they rent. Public facility construction fees are collectible over a period of 20 years.
The monthly fee per square meter of land is shown in the following chart:
Name of Zone
Rental for Land (NTD/sqm/month)
Public Facility Construction Fee
( NTD/sqm/month )
Taichung EPZ
9.15
5.38 for extended land
Chungkang EPZ
7.89
7.85
Taichung Software-base Technology Park
13.33 ~ 18.55
7.81
Nantze EPZ
12.08
None for original land, 7.56 for extended land
Nantze 2nd EPZ
17.5
15.79
Kaohsiung EPZ
10.5
Original land self-established 1.669, 10.472 for extended land
Chengkung Logistics Park
66(10% reported current land value)
Pay entitlement premium 25 (1% current assessed land value)
None
Linguang EPZ
12.5
8.01
Kaohsiung Software-based Technology Park
50
7.841
Pingtung EPZ
1.42
8.57
Source: Export Processing Zone Administration, MOEA, June 2015
For more information, please visit: